Magic Massager Brush by Nuggela & Sulé
Nuggela & Sulé's Magic Massager Brush helps revitalize the hair, since it provides a relaxing therapeutic massage that stimulate blood flow and the capillary nourishment.
Furthermore, its use creates a micro-exfoliation to restructure and eliminate dead skin cells that may generate harmful microorganisms. It also helps with the deep cleaning of the roots of the hair, and its massage soothes any itching or discomfort, and calms the scalp and its muscles.
---
DESIGN:
With an ergonomic design, and its magic lies on its double level silicone tines, arranged in a double acting drum and with triangular tips that do not harm the scalp, but stimulate blood flow increasing the follicle's nourishment. In addition, it has an ambidextrous, easy grip, handle.
BENEFITS:
Therapeutic scalp massage
Help stimulate blood flow
Promotes the nourishment of the hair follicle
Benefits the absorption of active ingredients
Helps restructure and eliminate dead skin cells
Soothes itching
INSTRUCTIONS OF USE:
The Magic Massager Brush is suitable for men, women, and children as its size fits with any hand size. It can be use on both dry and wet hair. Use it on the area to be treated, performing a gentle therapeutic massage.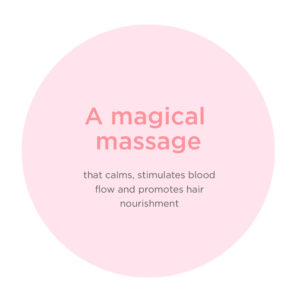 ---
*TIP:
Use it when applying Nuggela & Sulé's shampoo or serums, since the therapeutic massage relaxes and benefits the absorption of active ingredients while boosting the properties of cosmetics.