Epigenetic Shampoo for Greasy Hair by Nuggela & Sulé
THE SPECIALIST SHAMPOO
The Epigenetic Shampoo for Greasy Hair controls sebaceous discharge while due to its epigenetic action, strengthens the hair and improves its quality in each wash.
With Red Onion Extract, Seborreductyl, Salts from the Dead Sea and Marine Glycogen, active ingredients that strengthens and improves hair quality.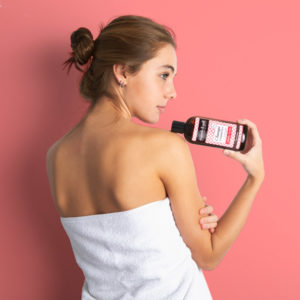 BENEFITS
· Controls sebaceous secretion and eliminates oil residue
· Anti-hair loss action
· Strengthens the hair
· Provides extra shine and softness
· Effective cleanliness
INDICATIONS
· For oily and seborrheic hair
· It can be used daily
· It is recommended for greater effectiveness not to alternate its use with other shampoos
· Dermatologically tested
SEBACEOUS DISCHARGE:
One of the most common hair problems is usually sebaceous discharge disorder. Visually it is very noticeable as the hair presents an oily and dirty appearance, but from the inside this disorder may cause weakening and even hair loss.
---
INSTRUCTIONS OF USE:
Pour the product into the palm of your hand
Rub hands until emulsified
Apply on hair and scalp
Evenly massage for a few minutes
Rinse thoroughly with water, and repeat the operation a second time to enhance the results
BY FOLLOWING THESE STEPS: you can prepare and activate the shampoo's ingredients in your hand. Then, you can evenly distribute the shampoo on your hair and scalp, which will create more lather and make it easier to massage your scalp.
*None of Nuggela & Sulé's products leave any sort of onion smell.
---
TIP:
Wash exclusively with the Epigenetic Shampoo for Greasy Hair for at least 3 weeks (1 month if possible) for a better experience.
(*)Do not worry if, during the first couple of days, you notice that your hair is not as soft. This is normal, as it is a treatment shampoo with a high concentration of active ingredients. After a short period of use, your hair will balance its natural action, improving its shine and volume.
---
MAIN ACTIVE INGREDIENTS:
RED ONION EXTRACT
The secret behind the red onion or the onion comes down to two of its main active ingredients, Quercetin and Sulphur. Quercetin reduces scalp inflammation and stimulates blood flow. Therefore, the hair is more and better nourished. Sulphur, (also known as the beauty mineral) due to its antiseptic properties, it eliminates fungus, bacteria and the excess of sebum. It helps achieve highly efficient cleaning, making it highly recommended for oily hair.
SEBORREDUCTYL
This botanical complex is used for treating oily hair and skin. It contains Sulfopeptides and Amino Acids that regulate sebaceous secretion, Group B Vitamins that repress lipogenesis, and Allantoin, which hydrates, soothes, and calms the skin.
MARINE GLYCOGEN
(Glycoenergizer Hair). Extracted from mollusc membranes, is one of nature's most powerful energy sources. When applied to hair, it provides an extra dose of glycogen which strengthens and revitalises hair, preventing hair loss and ageing. This ingredient is particularly effective in strengthening frail and brittle hair.