Anti-Hair Loss Ampoules
THE FIRST SOLUTION TO FIGHT HAIR LOSS
The Anti-Hair Loss Ampoules, a high concentration of active ingredients that combines traditional techniques with the latest generation to stop hair loss and start its regeneration.
Containing Red Onion Extract, Caprylic Acid and Marine Glycogen, active ingredients that stop hair loss while strengthening it.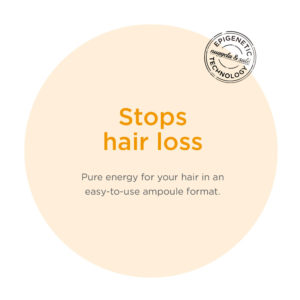 BENEFITS
· Effective Anti-Hair Loss Treatment
· Hair strengthening and more volume
· Anti-Hair Loss Action
· Anti-aging hair effect
INDICATIONS
· Recommended for all hair types
· Especially indicated for frail, brittle hair and for hair loss problems
· All Nuggela & Sulé's products have been dermatologically tested
TREATMENTS:
Apply 1 dose every 2-3 days. Apply daily to enhance the results. It is advised to apply the treatment preferably at night for at least 2 and a half months. Visible results within 3 weeks of its use. It can be applied on both dry and damp hair.
*For severe hair loss problems we recommend start with an Intensive Treatment for two months. After completing the Intensive Treatment, it is advised to continue with a Maintenance Treatment.
---
INSTRUCTIONS OF USE:
When the ampoule is used for the first time you must press the lid down to pierce the nozzle. Once the ampoule is open (you'll hear a "click"), remove the lid by pulling it.
– ON DRY HAIR
Applying small pressure and starting from the forehead to the nape, create 6-8 parallel lines covering the whole head
With your fingertips gently massage the scalp for 2 minutes
Once the 2 minutes have passed, brush or comb your hair as usual
After the application, you ought not to wash your hair for at least 6 hours
– ON DAMP HAIR
Follow steps 1 and 2
Wait 5-7 minutes before drying your hair
Once the time has passed, dry and brush your hair as usual
*None of Nuggela & Sulé's products leave any sort of onion smell.
---
*TIP:
During both treatments, we recommend shampooing with Nuggela & Sulé's Premium Nº1 Shampoo.
MAIN ACTIVE INGREDIENTS:
RED ONION EXTRACT
It has two main active ingredients: Quercetin reduces scalp inflammation and stimulates blood flow. Therefore, the hair is more and better nourished. Sulphur, (also known as the beauty mineral), due to its antiseptic properties, it eliminates fungus, bacteria and the excess of sebum. Highly efficient cleaning, making it highly recommended for oily hair.
CAPRYLIC ACID
Its main role is to repair the hair fiber, remove hair frizz and provide shine and vitality. This makes hair appear hydrated and healthy.
MARINE GLYCOGEN
(Glycoenergizer Hair): An active ingredient that provides an extra dose of glycogen and energy to the hair. Anti-hair loss and anti-aging effect, and strengthening of brittle and frail hair.